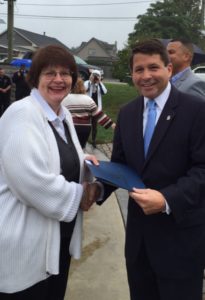 Caroline Scherrer receives "Citizen's Appreciation Volunteer Recognition" certificate from Gloucester Township Mayor David R. Mayer.
Gloucester Township honors
Co-Founder of People for the Poor
Caroline Scherrer, co-founder of People for the Poor, was recently given special recognition by Gloucester Township NJ for "unselfishly giving her time year in and year out for the betterment of our community".
She joined a select group of people honored on Gloucester Township Citizen Appreciation Day, October 14, 2017, at the Gloucester Township Citizen Appreciation Park in Glendora, NJ.
For Caroline's dedication in helping those in need though People for the Poor and her Sock Drives for the homeless throughout South Jersey, her name will be permanently added on the Park's Wall of Honor.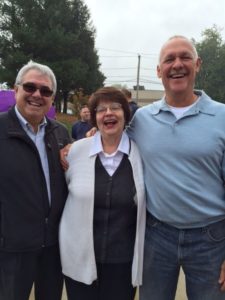 Caroline Scherrer is joined by People for the Poor volunteer Pete Shoemaker (l) and the charity's Board of Directors member Howard Creran at Gloucester Township's Citizen Appreciation Volunteer Recognition Day.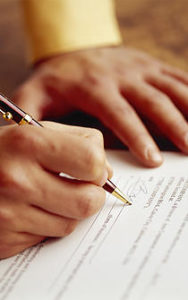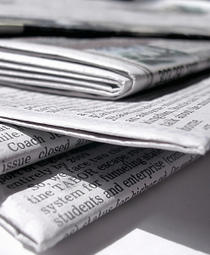 The gift that keeps on giving
Caroline Scherrer – October 2012
As many of you know, at our Golf tournament we had an autographed Michael Vick Eagles Jersey that we raffled off. Well, the gentleman who won it donated it back and said to give the Jersey to a child in Camden who would appreciate it. Needless to say, that was the highlight of my day…but the story continues…
I contacted 2 of my homeless shelters in Camden and I got a call that there was a 12 year old boy who was living in the shelter with his Dad. Evidently they came upon hard times and winded up in the Shelter. The father was approached about having his son be the receipent of the Jersey and of course he said yes. I then called the gentleman who donated it back to us and asked if he would like to present the Jersey himself to the child. He was very touched by that gesture and yesterday at 4pm the young man got off the school bus and met his dad at the shelter and then his dad told him he had a surprise for him. George approached him, gave him the Jersey and talked with him a short time about the importance of education and told him that whenever he & his dad get settled into their new home he will stop by and stock their frig for them!
People for the Poor does so much for so many people. We really do not get to see all the good that people do every day working with the homeless and George had gone to a few of our events and now he wants to really reach out because he has seen first hand all that people go through and he wants to help. God bless him, and each one of you because of all the work that YOU do to help the homeless and hungry!
News Articles
Courier Post – February 12, 2009
Group donates $27,000 to help homeless, poor
​
Courier Post – February 24, 2006
Friends work to help country's poor
​
Courier Post – February 24, 2006
Interview with People for the Poor Co-founder Caroline Scherrer